Engineering Simulations
Our supercomputers make ideal modeling and simulation servers.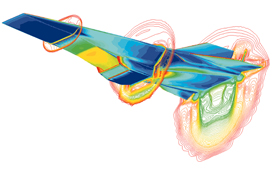 Engineering simulation problems have grown in many dimensions. Increasing problem size and model complexity, the use of multiple solvers, and the added complexity of coupled analyses are all making engineering simulation datasets larger and more complex.
In Computer-Aided Engineering (CAE), the trend has often been toward adoption of Linux clusters and Distributed Memory Parallel (DMP) computing architecture to support larger and larger models. However, many solvers and solver coupling mechanisms just do not scale well in a distributed environment. What's needed is large shared-memory supercomputing.
Our Departmental Supercomputers are Symmetric Multi-Processing (SMP) high performance computers with large shared-memory. They can maintain engineering simulation data in a single coherent data structure -- a requirement for some physics solvers and coupling mechanisms. Our Departmental SuperComputers can operate a large dataset structure, simplifying the process of data loading. Typical examples are implicit FEA solvers such as NASTRAN and ANSYS, MARC, and ABAQUS. Another area which prefers SMP architectures is DEM, or Discrete Element Modeling, the use of particles to simulate materials.
Our Duets and Trios are called 'Departmental Supercomputers' because they are very affordable. What had previously cost over a million dollars -- large shared-memory High Performance Computers -- can now be obtained for an order of magnitude less. Your engineering department can afford our Departmental SuperComputers with up to 3.0 TB of shared-memory and 1.6 TeraFLOPS of supercomputing power.
Our 192-core Trio Departmental Supercomputer (1.6 TeraFLOPS peak theoretical) offers 1.5TB or 3.0-TB of shared memory; our 128-core Duet Departmental SuperComputer (1 TeraFLOPS peak theoretical) offers 512-GB or 1-TB shared-memory configurations -- ideal for engineering models and simulations.
To programmers, our Duet and Trio Departmental Supercomputers look just like a single huge-memory Linux boxes. Programmers can use standard threading packages to get access to all 128/192 cores and up to 1/3.0 TBytes of memory. With our Duets and Trios, programmers need not worry about message passing interface programming, which is what supercomputing clusters and other limited memory systems demand. There's also no need to build complex file-access program components; programmers can just read a big dataset into memory and access it as an array.
Because our Departmental SuperComputers are easier to program, your engineers need not be computer science experts which is what supercomputing clusters demand. Instead, your engineers can focus more of their valuable time on their specialty – mechanical engineering, chemical engineering, material science, physics, manufacturing engineering and other disciplines.
Modeling/Simulation Documents
CEI installed, tested, and verified that EnSight runs on our Departmental SuperComputers. Click here to download a PDF of a joint CEI Ensight - Symmetric Computing brochure. →